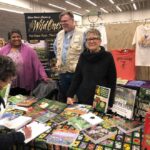 Wild Ones, Gibson Woods Chapter Business Meetings are held via Zoom
on the first or second Wednesday evening of each month (unless otherwise noted).
Educational Presentations are at 10:00 a.m. the first Saturday of the Month
(unless otherwise noted).
Typically held at Gibson Woods Environmental Awareness Center
6201 Parrish Avenue, Hammond, IN 46323.
Phone 219-844-3188
---
PLEASE NOTE – Zoom registrations and In-Person R.S.V.Ps are required for all events
Please check the calendar prior to an event for any changes/updates.
All Presentations are free of charge and open to the public.
Memberships are encouraged as they are vital to furthering Wild One's Mission
JUNE BUSINESS MEETING & Butterfly Garden Clean-up
In-person outdoor meeting at Tri-Town Safety Village Butterfly Garden
Saturday, June 3rd from 10:00 a.m. – 1:00 p.m.1350 Eagle Ridge Dr, Schererville IN
Member review of Plant Sale, and discussion of this year's projects & other summer activities. Followed by some clean-up at the Butterfly Garden. This is a great summer volunteering opportunity for Wild Ones members, as well as Non-Members. Hours throughout the Summer are available. If interested in summer volunteering, please contact us. Bring your own beverage & snack to the meeting & don't forget your garden gloves & favorite shovel! Non-members are welcome.
SEPTEMBER BUSINESS MEETING & PLANT/SEED SWAP
In-person at Gibson Woods
Saturday, September 9th from 10:00 a.m. – 12:00 p.m. 6201 Parrish Ave, Hammond IN
We will have a business meeting indoors at Gibson Woods, followed by a native plant & seed swap outdoors. We will also be dedicating the new Kiosks in honor of Joy & Rick Bower.
If you are not a member, and just want to attend the swap, please arrive at 11:00 a.m.
NATIVE PLANTS FOR LOCAL BATS: Become a Good Bat Neighbor – with Jen Woronecki-Ellis
HYBRID – Online and In-Person – OPEN TO THE PUBLIC
When: Saturday, October 7th 10:00 – 11:30 a.m.
Where: Gibson Woods, Hammond IN
Many of our bats are becoming endangered, but people can take simple steps to help!
The Good Bat Neighbor (GBN) Program helps inform about the plight of bats, and how to protect and restore their habitat right in your own backyard. Learn how to create a Bat Garden with native plants, and improve habitat with actions as easy as reducing Artificial Light at Night (ALAN).
Bats have a uphill battle – habitat loss, pesticide use, a deadly infection spread by humans… Yet, they help us so much – they eat disease-causing insects, protect crops from agricultural pests, and fertilize everywhere thy go. Won't you give them a helping hand, too?
Jen Woronecki-Ellis has been passionate about helping wildlife since her first bird rescue when she was three. She started on habitat restoration when she founded Juniper 's NatureScaping in 2006, with a focus on birds and pollinators, and began to incorporate bats with her graduate studies while she pursued a Master's in Biology through Project Dragonfly at Miami University Ohio in partnership with the Chicago Zoological Society.
Jen created the Good Bat Neighbor citizen conservation program and has presented at the annual Midwest Bat Working Group conference in Missouri and the Wild Things conference in Illinois, as well as meetings of local non-profit organizations in Northwest Indiana… she has also made a number of nature documentaries, including work for the Ohio Bat Working Group.
When she's not busy producing bat education and outreach materials, and connecting with bat rehabbers and organizations around the world, Jen enjoys birding with her spouse in and around the Indiana Dunes.